Historical Building Metal Roofing Contractors Michigan
Historical Building Roof Restoration & Preservation
CASS Sheetmetal Specialists - Detroit, MI
Historic National Landmark is Restored!
Kingswood School at Cranbrook Institute
Bloomfield Hills, MI.
A Penny Saved is a Reputation Earned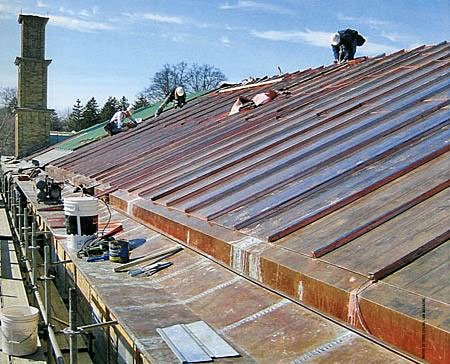 CASS Sheet Metal installs new Copper Roofing at Cranbrook.
A Penny Saved is a Reputation Earned
Kingswood School at Cranbrook – Bloomfield Hills, MI.
When most people think of copper, they tend to think about coin change in their pockets as opposed to roofs above their heads. While copper is still used in roofing today, the material has lost ground to less extensive alternatives, and many of the most dramatic copper applications sit atop older buildings as prominent reminders of the craftsmanship of a bygone era. An ambitious attempt to resurrect the splendor of the past is exactly what CASS Sheetmetal did to the roof of Kingswood School on Cranbrook's National Historic Landmark campus in Bloomfield Hills, MI.
At nearly 90,000 square feet, the copper roof at Kingswood School is one of the largest in the United States, but its structural integrity had degraded over time. Without corrective action, water intrusion would slowly erode the venerable structure designed by Eliel Saarinen. Following the completion of an initial roof replacement (30,000 square feet) by the owner in 2001, the design/build team divided the remainder of the project into three work areas. The first area, where the initial work began covered the roofing over the dining hall, auditorium, common room and old ballroom. For roofing contractor, Custom Architectural Sheetmetal Specialists, Inc. a copper roof saved is a reputation earned at the completion of this enormous project.
Slate & Clay Tile Roof Replacement
Henry Ford Estate - Roof Restoration
Slate & Clay Tile Roof Replacement
CASS Sheetmetal Specialists - Detroit, MI
Henry Ford Estate – Roof Restoration
Our uncompromising demand for quality and proven track record of excellent workmanship has allowed CASS Sheetmetal to become the preferred metal contractor to many local architects, owners and contractors.  It is also this track record that had enabled us to be involved with many prominent and visible projects including; Henry Ford Estates restoration, Michigan's State Capitol Building, the University of Michigan Bell Tower, The New Pine Knob/ DTE Music Theatre, Northville High School and St. George Greek Orthodox in Troy, to name a few.
CASS Sheetmetal is a team player with participation in the functional design, planning and execution of the job with unmatched attention to old world craftsmanship and the added beauty of details. CASS Sheetmetal thrives on challenge and getting it done right.
Old World Craftsmanship Lives On!
Slate Tile Church Steeple, Slate Roof Restoration
Custom Copper Fabrication
CASS Sheetmetal Specialists - Detroit, M
Reroofed Church Slate Tile Roof & Steeple
Trinity Lutheran Church in Monroe, MI
(Corner of Scott and Third Street - Downtown Monroe, MI)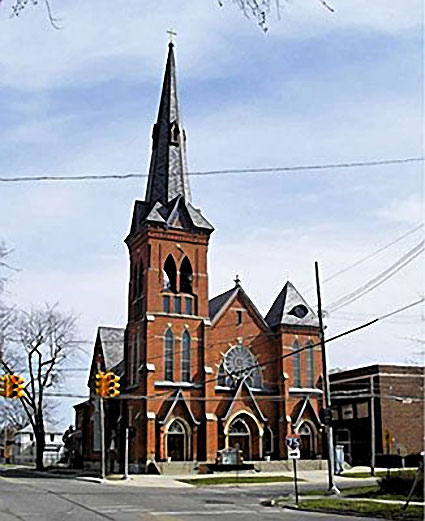 Historic Church Steeple Restoration
Custom Copper Work Fabrication
Beautifully restored Church Slate Tile Roof
Also replaced Copper Fascia & Roof Ornaments.
Church Steeple Slate Roof Replacement by CASS Sheet Metal Specialists - Detroit, MI

Replacement (approximately 15,000 square feet)
Old world craftsmanship, meticulous attention to detail, decades of experience and the dedicated teamwork of the CASS Sheetmetal work force has made us the go-to contractor for custom roofing projects such as this intricate and sharply pitched slate church steeple and roof.
Custom Fabrication by CASS Sheetmetal – Detroit, MI
Historic building roof repair, replacement and restoration are becoming a lost art. Much like fabricating and soldering copper roof panels. The talent and skill level that's needed for such unique jobs is what CASS Sheetmetal specializes in and what we provide to all our clients. Not only do we have the most skilled craftsmen and tinsmiths, but they're tested and certified as specialists in their trade.
Historical Building Roof Restorations by CASS Sheetmetal - Detroit, MI
Historical Building Roof Restoration
Historic Office Building downtown Detroit at Cass and Grandriver & Cranbrook Institute Kinswood School Copper Re-roof – Bloomfield Hills, MI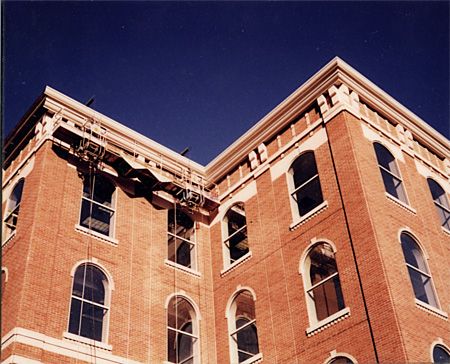 First of America Bank – Custom Cornice Work – Kalamazoo, MI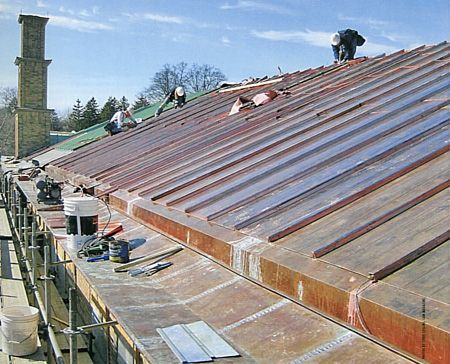 Cranbrook Kingswood School Copper Roofing – Bloomfield Hills, MI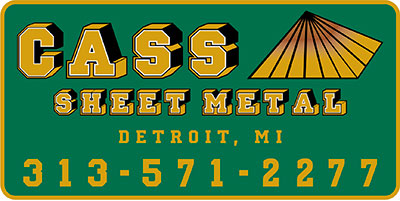 Can One Company Offer So Much?  Our Clients Think So!
CASS Sheetmetal Specialists – Detroit, MI  (313) 571-2277

Project Consulting, Design/Build, Installation, Custom Fabrication, Standing Seam Copper Domes & Caps, New Construction Standing Seam Metal Roofing, Foam Wall & Stainless Steel Siding Panels, ZInc Siding, Slate & Tiles, Custom Bay Window & Prefab Canopies, Metal Fascias, Soffits & Mansards, Residential Metal Roofing Systems, Historic Building Roof Restoration and More!
Historical Building Metal Roofing Contractors Michigan