C.A.S.S. Sheetmetal Specialists
Michigan State Capitol Building Repair/Renovation
C.A.S.S. Sheetmetal Specialists
Greektown's Saint Mary's Church Roof Repair
C.A.S.S. Sheetmetal Specialists
First National Building Detroit, New Canopies
C.A.S.S. Sheetmetal Specialists
Perry's Victory & International Peace Memorial Monument
C.A.S.S. Sheetmetal Specialists
Saint Paul of Tarsus Church, Copper Roof Replacement
C.A.S.S. Sheetmetal Specialists
Copper Cones, Domes, Caps Design/Build Custom Fabrication
Challenge is what We Thrive On!
Custom Sheet Metal Fabrication · Design · Installation · Restoration
MI Metal Roofing Contractors Sheetmetal Fabrication Copper Domes
Historical Renovations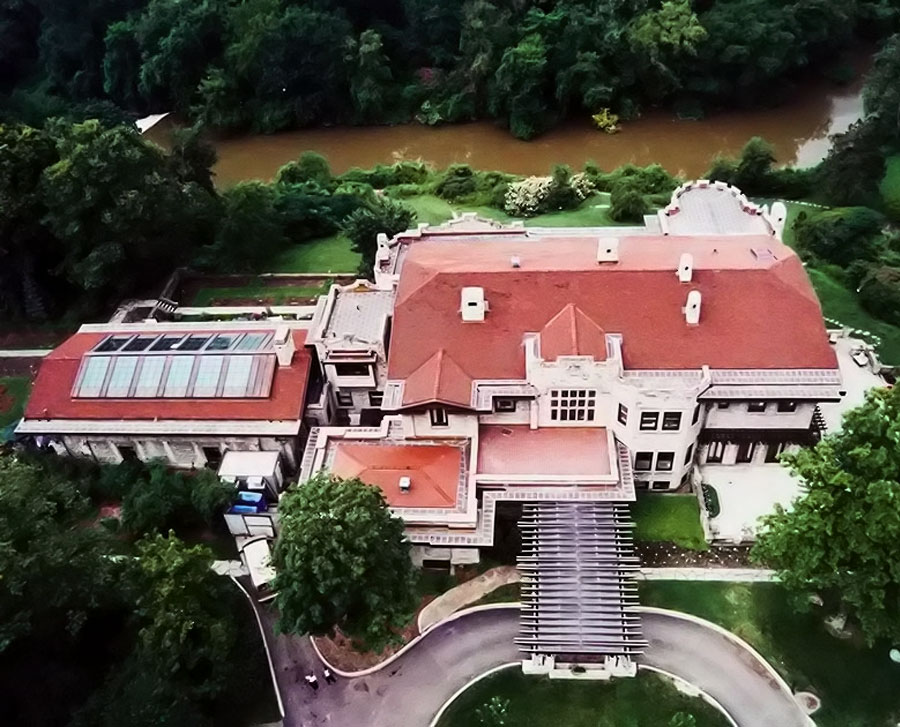 When it comes to historical building restoration and preservation, CASS Sheetmetal is the preferred sheetmetal contractor due to their extensive knowledge and expertise in old world craftsmanship. Many prominent and visible projects include; Henry Ford Estates restoration, U of M Bell Tower, DTE Music Theatre, Fisher Building, Northville High School, St. George Greek Orthodox Church in Troy just to name a few.
Copper & Metal Domes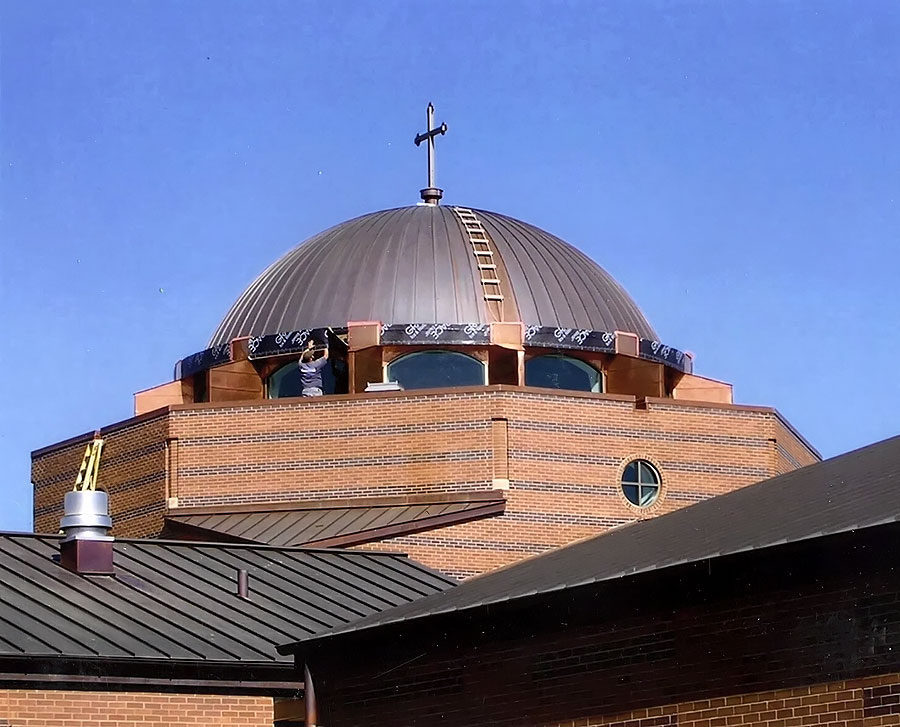 With a reputation for uncompromising quality, CASS Sheetmetal continues to land very large and prestigious projects for schools, churches, banks, historical landmark building renovations and to work with other contractors in Michigan and out of state. Thanks to strategic partnerships with companies like Berridge, CENTRIA and our dedicated employees, we've never had to say we couldn't take on a job!
Metal Roofing Systems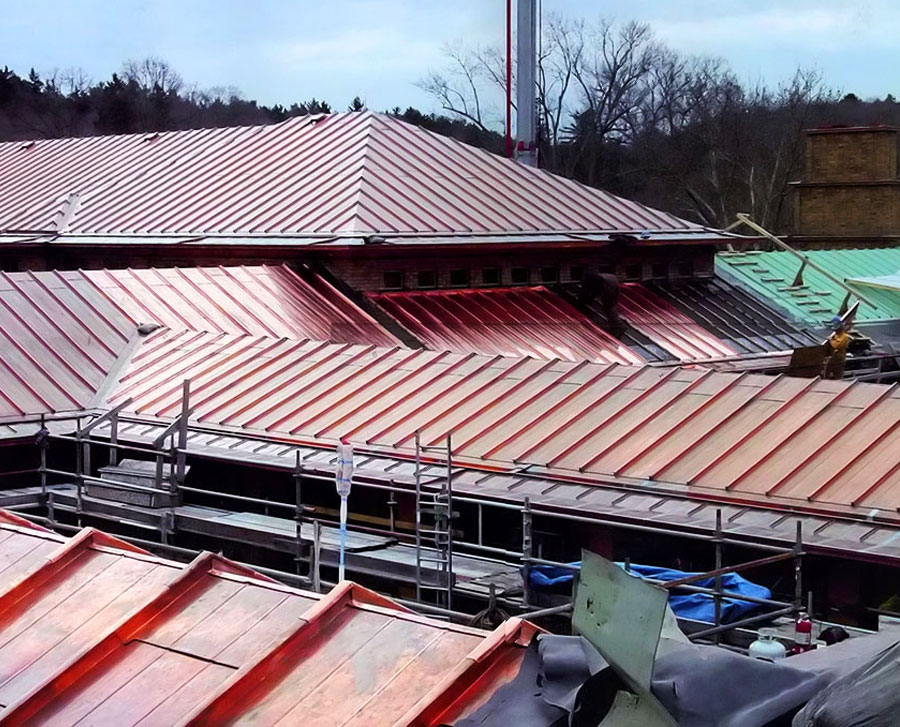 A gleaming newly fabricated historical copper cupola is what C.A.S.S. delivered in record time at Cranbook Institute to replace the badly weathered copper roofing and dome top of the Observatory tower. Years of seasonal wind and rain had taken its toll on the tower, but once again it shines in all its original glory thanks to expert teamwork of CASS Sheetmetal. CASS Sheetmetal is well known for doing the difficult…and doing it right.
C.A.S.S. Sheetmetal Specialists
The Preferred Sheetmetal Contractor

Historical Building Restoration
Monument & Municipal Building Repair
Custom Fascias, Soffits & Mansards
Stainless Steel & Zinc Panel Siding
Slate, Tile, Metal & Copper Roofing
Churches, Schools, Towers & Shopping Malls
Pre-fab Copper Cones, Domes & Canopies
Why Architects, Contractors and Building Owners prefer the Services of CASS Sheetmetal for new Metal Roof Construction, Roof Repairs, Custom Copper Fabrication, Historical Building Repair, Renovation & Restoration
MI Metal Roofing Contractors Sheetmetal Fabrication Copper Domes. Our uncompromising demand for quality and proven track record of excellent workmanship has allowed CASS Sheetmetal to become the preferred metal contractor to many local architects, owners and contractors. It is also this track record that has enabled us to be involved with many prominent and visible projects including; Henry Ford Estates restoration, Michigan's State Capitol Building, the University of Michigan Bell Tower, The New Pine Knob/DTE Music Theatre, Cranbrook Institute Schools and St. George Greek Orthodox Church in Troy, to name a few. CASS Sheetmetal is a team player with participation in the functional design, planning and execution of the job with unmatched attention to old world craftsmanship and the added beauty of details. CASS Sheetmetal thrives on challenge and getting it done right.
Parking Structures & Public Building
Historical Building Damage Repair
Design/Build & Installation Experts
Copper & Standing Seam Metal Roofing
C.A.S.S. Sheetmetal Thrives on Challenge!
Our Services - C.A.S.S. Sheetmetal Specialists - Detroit, MI
♦ Project Consulting
♦ Design/Build Engineering
♦ New Installation
♦ Custom Copper/Metal Fabrication
♦ Standing Seam Copper Domes
♦ Residential & Commercial Metal Roofing
♦ Slate & Tile Roofing

♦ Metal Fascias, Soffits & Gutters
♦ Custom Bay Windows
♦ Prefab Copper & Metal Canopies
♦ Custom Soffits & Mansards
♦ Historical Building Repair
♦ Roof Damage Restoration
♦ Monument Repair & Preservation

C.A.S.S. Sheetmetal Specializes in all aspects of Architectural Sheetmetal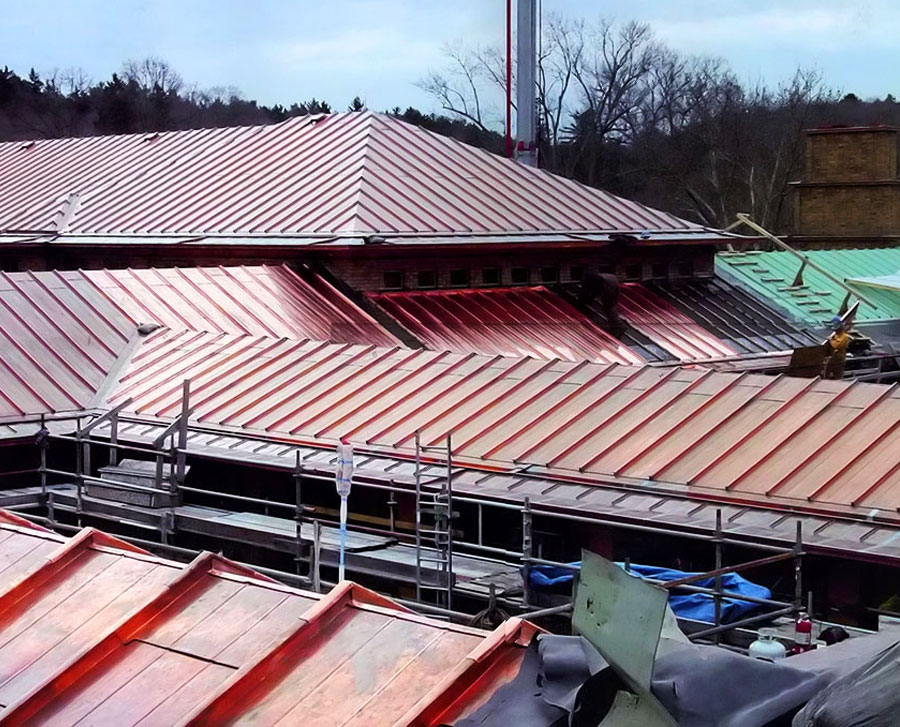 Spectacular, monumental and beautifully restored! Over 60,000 sq feet of copper roofing was replaced on the Cranbrook Kingswood School in Bloomfield Hills, MI while it was occupied. CASS Sheetmetal is a leader in significant historic preservation projects as well as new modernistic construction.
CASS Sheetmetal even recreated the copper dome on the Cranbrook School Observatory, replacement of the clay tile roof and copper gutters on the Cranbrook School Library, and the fabrication and installation of a complex stainless steel liner for Jonah Fountain by Swedish sculptor Carl Milles. MI Metal Roofing Contractors Sheetmetal Fabrication Copper Domes.

CASS Sheetmetal is a sheet metal contractor specializing in all aspects of architectural sheet metal. Our craftsmen have decades of experience in design, fabrication and installation of weather tight and aesthetically pleasing standing seam, metal roofing, fascias, mansards and roofing related sheet metal fabrication.
MI Metal Roofing Contractors Sheetmetal Fabrication Copper Domes
Custom Sheet Metal Fabrication · Design · Installation · Restoration