Sheetmetal Copper Design Build Fabrication Services
CASS Sheet Metal Services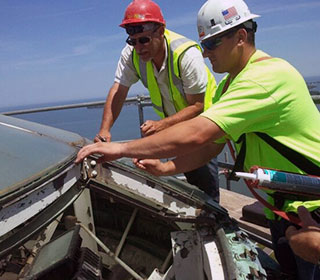 Monument Restoration & Preservation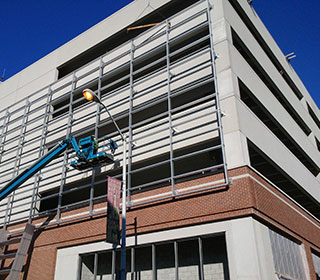 Public & Municipal Building Repair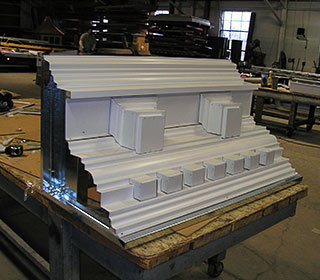 Custom Fabrication – Cornices & Canopies

Services Offered by Custom Architectural Sheetmetal Specialists, Inc.
Design/Build - Installation - Custom Fabrication - Consulting
Custom Design Build Sheetmetal Copper Fabrication
Expert Pre-Project Consulting & Forensic Investigation
Design/Build Project Planning
Custom Fabricated Sheet Metal Products
Architectural Sheet Metal Roofing & Siding Installation
Copper & Metal Fabrication
Standing Seam Copper Domes
Copper, Tile & Slate Shingles
Structural Standing Seam Metal Roofing
Composite Metal/Foam Wall Siding & Stainless Steel Siding Panels
Custom Prefab Window Treatments
Custom Cornice Metal Work
Zinc Metal Siding Panels-Commercial Buildings
Metal Canopies & Mansards (Galvanized, Aluminum, Copper, Stainless Steel)
Historic Building Roof Restoration (Repairs/Replacement)
Residential Homes – Metal Roofing Systems (New Installation/Replacement)
Some of the many Landmark Facilities that feature the work of CASS Sheetmetal
DTE Energy Music Theatre
Saint Anne's Church Renovation
Saint George Greek Orthodox Church
Kalamazoo Valley Community College Museum
Henry Ford Estates
Benson Ford Research Center
IMAX Theatre at Henry Ford Museum
Max M Fisher Music Center
Detroit Symphony Orchestra Hall Renovation
St. Paul of Tarsus Catholic Church – Clinton Township, MI
Bell Tower at the University of Michigan's North Campus – Ann Arbor, MI
Perry's Victory and International Peace Memorial Tower – Put-in-Bay, Ohio
KASL Building at the University of Michigan's Dearborn Campus
Ford Community and Performing Arts Center

Cranbrook Institute – Schools, Library & Observation Tower
Expert Consulting for Pre-Project Planning, Insurance Claims & Forensic Investigation and Testing (FIT)
CASS Sheetmetal has the capacity and expertise to investigate problematic roofing systems. Our experience has shown traditional construction techniques have not always been incorporated into roofs thus leading to premature failure of a system resulting in extensive damages. Typically, our investigations include visual inspection, water testing, destructive testing, removal of roofing components to verify deficiencies built into the original roofing system. Findings from our FIT services are used to develop cost effective restoration strategies.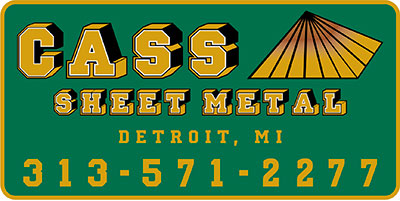 Can One Company Offer So Much?  Our Clients Think So!
CASS Sheetmetal Specialists – Detroit, MI  (313) 571-2277
Project Consulting, Design/Build, Installation, Custom Fabrication, Standing Seam Copper Domes & Caps, New Construction Standing Seam Metal Roofing, Foam Wall & Stainless Steel Siding Panels, ZInc Siding, Slate & Tiles, Custom Bay Window & Prefab Canopies, Metal Fascias, Soffits & Mansards, Residential Metal Roofing Systems, Historic Building Roof Restoration and More!
Sheetmetal Copper Design Build Fabrication Services