Copper Domes Cones Caps Metal Fabrication Design
Custom Copper Fabrication & Restoration
CASS Sheet Metal - Detroit, MI
A Historic National Landmark is Restored!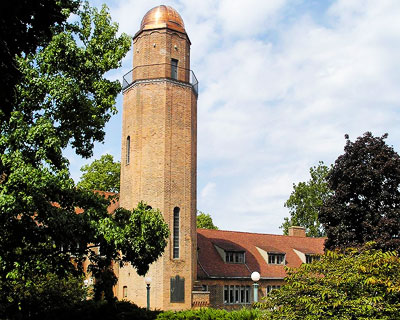 Cranbrook Observatory Tower Dome Restoration
Bloomfield Hills, MI.
Gleaming Historic Copper Cupola
Delivered in Record Time!
Working with a daunting schedule, CASS Sheetmetal custom fabricated and installed a shiny new, historically accurate copper cupola on top of the Cranbrook Observatory Tower, a national historic landmark in Bloomfield Hills, MI.
"This was an extreme task that involved much cooperation and effort between our subcontractors and the trades," said Glenn Parvin, CASS Sheetmetal president. "we kept to a tight schedule." The company's challenge was to complete and install the dome in two months working around the community's summer calendar.
The work was part of a combined project to rebuild the tower's deteriorating copper cupola and to restore the Ludowici clay tile roof of the Cranbrook Library, both part of the venerable Cranbrook Educational Community. The tower was built in the 1920's and originally served as a functioning observatory. The years and weather had taken their toll on the structure. Its existing copper cladding, which was simply riveted to the structural steel, had leaked for years..
Church Custom Copper Domes & Roofing Project
Saint George Greek Orthodox Church – Troy, MI
Custom Copper Domes fabricated by CASS Sheetmetal
CASS Sheetmetal fabricates over 20,000 pounds
of 16 ounce Copper Standing Seam Domes
and 7,000 sq. ft. of Copper Shingles.
Main Dome is 62 feet high and 120 feet in circumference.
Standing Seam Copper Domes &
Copper Shingles Roofing
Beautified with Standing Seam Copper Domes & Copper Shingles Roofing industry naysayers are claiming that architectural sheetmetal roofing is a dying art because skilled artisans are retiring and not being replaced by workers with like abilities.
We are happy to report that in Detroit, MI, Custom Architectural Sheet Metal Specialists, Inc. headed by company President and Owner, Glenn Parvin, who has over 30 years of field experience in all facets of roofing and sheet metal work, is well qualified to provide architectural sheetmetal custom fabrication and installation for the construction industry.
CASS Sheetmetal was selected for applying copper roofing on St. George Greek Orthodox Church in Troy, MI. When the building committee of the Saint George Greek Orthodox Church, Troy, MI, selected John Loizon Associates, Birmingham, MI, as the architect, and the George Auch Company, Pontiac, MI, as the general contractor.  Al Whiting, project manager for the George Auch, Co., selected CASS Sheetmetal to fabricate and apply the copper roofing system because CASS Sheetmetal had earned a reputation in the Detroit metropolitan area as one of the top quality sheetmetal contractors. Copper Domes Cones Caps Metal Fabrication Design

Saint George Greek Orthodox Church – Troy, MI (Read the Full Story -See photos above)
Double-Lock Standing Seam Roof Selected a Church Roof Design

Basically, the design of the church featured a main dome which was 62 feet high and has a circumference of 120 feet. In addition, there were three domes 9 feet in diameter, two 10 feet in diameter and two 12 feet diameter domes. Each dome was sheathed with a double-lock standing seam copper roof fabricated from 16 ounce architectural copper. CASS Sheetmetal selected copper produced by Revere Copper, Rome, NY and supplied by K-Metals, Livonia, MI.
Quantities of Copper required for St. George Greek Orthodox Church Dome Roofing Project Over 20,000 pounds of Revere 16 ounce copper was used in the application of approximately 5,200 sq. ft. of double-lock standing seam copper roofing installed on the main dome and wings, as well as 700 sq. ft of flush seam copper wall panels. Due to the shape of the panels required to properly contour to a dome, standard equipment was unusable. The panels were hand cut with a Uni-shear, hand folded to form roofing pans and hand seamed in the field, a very labor intensive process. There were no seams which were notched and soldered. Instead, they were field stretched to keep the continuity of the double lock seam's integrity. The copper panels were installed over a wooden deck which had an under layment of ice and water shield over which was laid a sheet of rosin paper used as a slip sheet.
Domes are CASS Sheetmetal shop fabricated and erected on the roof of the church with regards to the erection of the seven accent domes that were designed to top the stair towers and main entrance canopy. CASS Sheetmetal needed to make a decision. Since the installation of scaffolding on the 40-foot stair towers would go beyond what was already necessary on the main dome, construction costs would have escalated. CASS Sheetmetal solved this problem by prefabbing the domes in its own shop in halves, then shipping them to the job site on trailers to be hoisted with a crane and mounted onto the towers. Since the small domes protected the stair towers, CASS Sheetmetal chose to develop a system of rolled steel, plywood and snap-on standing seam copper panels. Having control of design, frame construction and copper installation allowed CASS Sheetmetal the freedom to create units which were symmetrically correct. Old/New Revere Copper Shingles where selected for church roof section. The architect, John Loizon, desired a different look for the gable sections of the roof area.
Project manager, Greg Gietek, while researching a variety of copper type shingles. came upon Revere Copper's re-introduced copper shingle. Copper shingles were installed per Revere specifications using copper ring shank nails, 8 per 48″ x 9 1/2″ copper panel shingle. At all saddle areas where copper shingles were installed, ice and water shield paper was first installed, then followed with a flat seam soldered dock. The shingles were then soldered to prevent ice damage and water back-up. Initially, there was a concern about the long term watertightness of the copper shingles, but was assured by Revere's technical department that several installations along the East Coast are upwards of 20 years old without failure. Upon installing the shingles it was decided it is indeed a well engineered shingle product when installed according to specification with proper flashing details.
Architect Provided Stainless Crosses for Top of Domes
The architect John Loizon furnished eight crosses for installation on top of the copper domes. The arms of the main cross were 6″ x 6″ square. This cross stood 42″ high and 30″ wide. It was fabricated of brushed stainless steel and welded watertight. CASS Sheetmetal mounted the cross on the top of the dome with four stainless steel bolts, then a copper clone-type flashing was soldered to the cross base and the copper deck beneath. Rain Drainage of Domes Provided Fears of Staining Base Materials The drainage of rain from the main dome and the smaller accent domes was a matter of concern because the base materials, as can be seen on the accompanying photographs, were light colored block and EIFS materials.
On the main dome CASS Sheetmetal worked with the general contractor to re-detail and push back the glass and stud wall system as much as possible, thereby allowing water to run off and not drain directly onto the EIFS finish beneath. The walls of the wings were originally specified to be block or EIFS, however, this covering was changed to copper since a gutter system on the wing was undesirable. The two larger accent domes were redesigned slightly smaller to drain into the flat seam copper gutter system within the tower.
The other two towers have domes sitting directly on flat seam copper roof with a pre-finished white gutter system at its perimeter. While the effects and changes may not eliminate future staining, they will greatly reduce the magnitude. Vital Pre-Installation took place before Copper Panels were Installed The details for the copper domes, gutters and other roofing were developed by the architect and CASS Sheetmetal based upon sheetmetal experiences, problem solving, and information provided in Revere's Copper's "Copper & Common Sense" book and SMACNA's Architectural Sheetmetal Manual.
Several unique ideas in design and arterial selections were provided by CASS Sheetmetal which were implemented in the final project which served to meet the architect's vision while keeping the project within budget, which is always a primary concern. CASS Sheetmetal is a member of SMACNA and the National Roofing Contractors Association (NRCA). "It should be noted that before an ounce of copper was installed, countless man hours were spent developing the concept of the prefab domes and building the special ladders, safety systems and custom tools necessary to complete a project like this. Copper Domes Cones Caps Metal Fabrication Design

Custom Copper Domes, Cones, Caps & Metal Fabrication Design by CASS Sheet Metal – Detroit, MI